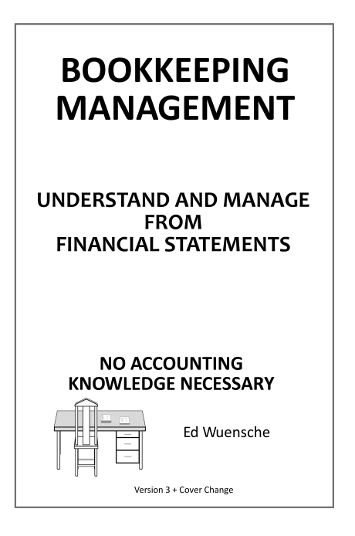 New Financial Management Book


Bookkeeping Management by Ed Wuensche- Learn and Manage from Financial Statements.


No prior accounting knowledge neccessary.

Many client stories, pitfalls & tips





HOME



Since 1971, we have prepared thousands of Income Statements and Balance Sheets
for over 50 types of businesses. We have brought many company's bookkeeping up to
date, while also setting up their bookkeeping on computer and training the designated
employee or the owner or owner's wife to enter the data. (usually without any
bookkeeping Knowledge)

We also help businesses achieve a monthly management oriented
Income Statement and Balance Sheet. Also our book,


Bookkeeping Management

, shows you how to monitor the accuracy of these monthly
statements. Business owners are often unaware that the Income Statement and Balance
Sheet can be prepared monthly without being management oriented.

If a business owner cannot understand why the company is not profitable, the biggest joy
comes when the owner is helped by using management oriented Income Statement and Balance
Sheets to make decisions that turn the company into a very profitable one.

Contact us at ed@houstonareabookkeeping.com or 281-373-4319 if we can help you at
Greater Houston Business Services.

You can also buy the book shown to understand and manage from
the Income Statement and Balance Sheet.

Click the link above for more information.